Video: Testing the Lucid Air's Range in Real-World Highway Driving
Go Behind the Scenes with the Lucid Team from February 2020
As the COVID-19 crisis continues to unfold, we are all taking more time to appreciate the people in our lives — and what they mean to us. Under ordinary circumstances at Lucid, we're fortunate to work under the same roof with over 1,000 talented colleagues. And while we certainly miss seeing them in-person every day, we are collaborating remotely on the rapid development of the Lucid Air until we can safely return to our Silicon Valley headquarters.
It's one reason we take such pleasure in sharing a video we filmed in February, documenting the road-trip when several teammates took a Lucid Air beta prototype on a round-trip loop between San Francisco and Los Angeles — a distance of more than 400 miles each way.
We engineered the Lucid Air around the concept of "smart range," meaning it achieves long-distance driving with extraordinary efficiency rather than enormous battery packs. So, how usable is the Lucid Air's range? Simply put, we intend to set the industry benchmark for real-world highway driving. And you can see for yourself how well it performed in our behind-the-scenes video.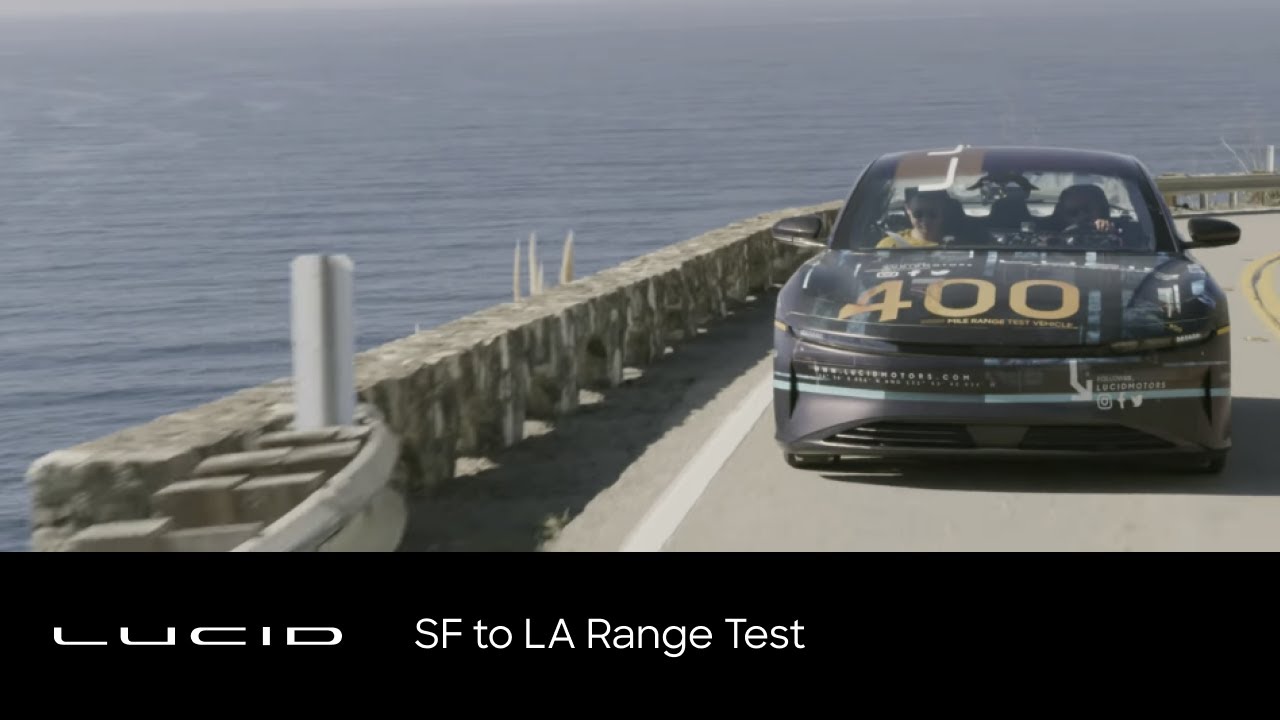 Our journey began at Lucid's Silicon Valley headquarters as we headed south along coastal Highway 1. After passing through the iconic scenery of Big Sur, we stopped in San Luis Obispo, but only so our chase truck could refuel. By evening, our Lucid Air had taken us all the way to Santa Monica's famous pier — all on a single charge.
The following day, after charging overnight, we visited Hollywood and drove through Beverly Hills — the location of a Lucid Studio that we expect to open later this summer. And then it was time to head homeward on Interstate 5, climbing through the mountainous Grapevine north of Los Angeles, where we reached an elevation of 4,144 feet at the Tejon Pass.
Descending to California's Central Valley, we continued for hundreds of miles through plains of expansive farmland, allowing the Air to stretch its legs and cruise at Interstate 5's 70-mph speed limit. As we approached the Bay Area, CEO Peter Rawlinson joined us in a second Air beta prototype for a Lucid caravan across the Golden Gate Bridge and into the city at sunset. Again, all on a single charge.
Stay tuned as we continue to take you behind the scenes at Lucid even as we prepare new plans for the global reveal of the Lucid Air.
Stay safe.
If you have any questions, please contact sales@lucidmotors.com or call +1 844 367 7787.