Lucid Air Sets Laguna Seca Lap Time of 1:41.67
Watch as the Lucid Air Is Put through Its Paces
Posted by David Lickfold, Chassis & Vehicle Dynamics Engineering Manager
WeatherTech Raceway Laguna Seca, nestled in the hills of the Monterey Peninsula on California's central coast, is one of the most demanding road courses in the world. With a combination of high-speed straights, blind crests, heavy-braking zones, and dramatic elevation changes, the track quickly highlights any weaknesses in a vehicle. In early August, we took a Lucid Air prototype through its paces around the track in a test and development session.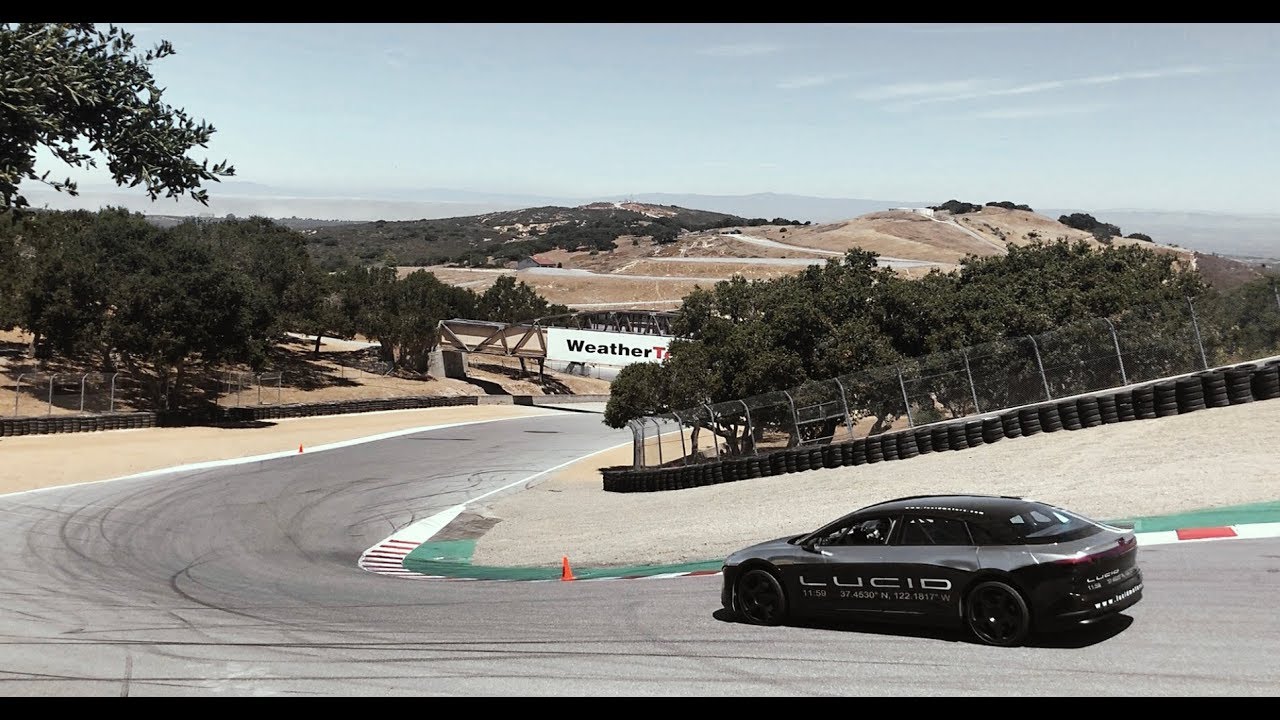 We subject our vehicles to rigorous testing to find their limits. We then pore through the test data to refine our advanced simulation models and to iterate our designs. For this test and development session, we focused on performance, thermal management, braking-system cooling, aerodynamics, and handling.
The prototype used is set up to our latest showroom intent, with the exception of swapping the interior trim for a 6-point roll cage and fire-suppression system, and adding high-temperature brake pads and brake fluid. The result is a car that is within a few percent of our production weight.
The Lucid Air's performance at Laguna Seca was impressive. The instantaneous response and unrelenting torque of Lucid's electric powertrain, combined with playful yet sure-footed handling, make the Air engaging on the track.
Driven by a Lucid Chassis & Vehicle Dynamics engineer, the Lucid Air set a Laguna Seca lap time of 1:41.67 on our production 21-inch Pirelli P Zero PZ4 summer tires, putting us among some very performance-focused competition.
Determined to subject our car to ever-increasing lateral and longitudinal punishment, we next fitted Pirelli P Zero Trofeo R road-legal track tires and pushed harder. The result was a time of 1:39.30.
Performance and driver involvement have always been high on our list of priorities, with Peter Rawlinson, our Chief Technical Officer, hailing from Jaguar and Lotus, and the engineering team including veterans of Red Bull F1, Porsche, BMW, and Aston Martin.
Each challenge we throw at the Lucid Air allows us to create a better vehicle, with this testing representing a snapshot in time as the Air evolves and improves day by day. We are establishing the new benchmark not just for electric vehicles but for all luxury mobility.