Lucid Motors Releases New Episode of Tech Talks Video Series, Revealing the Innovative Tech Powering Lucid Air's Ultra-Fast, Ultra-Flexible "Wunderbox" EV Charging System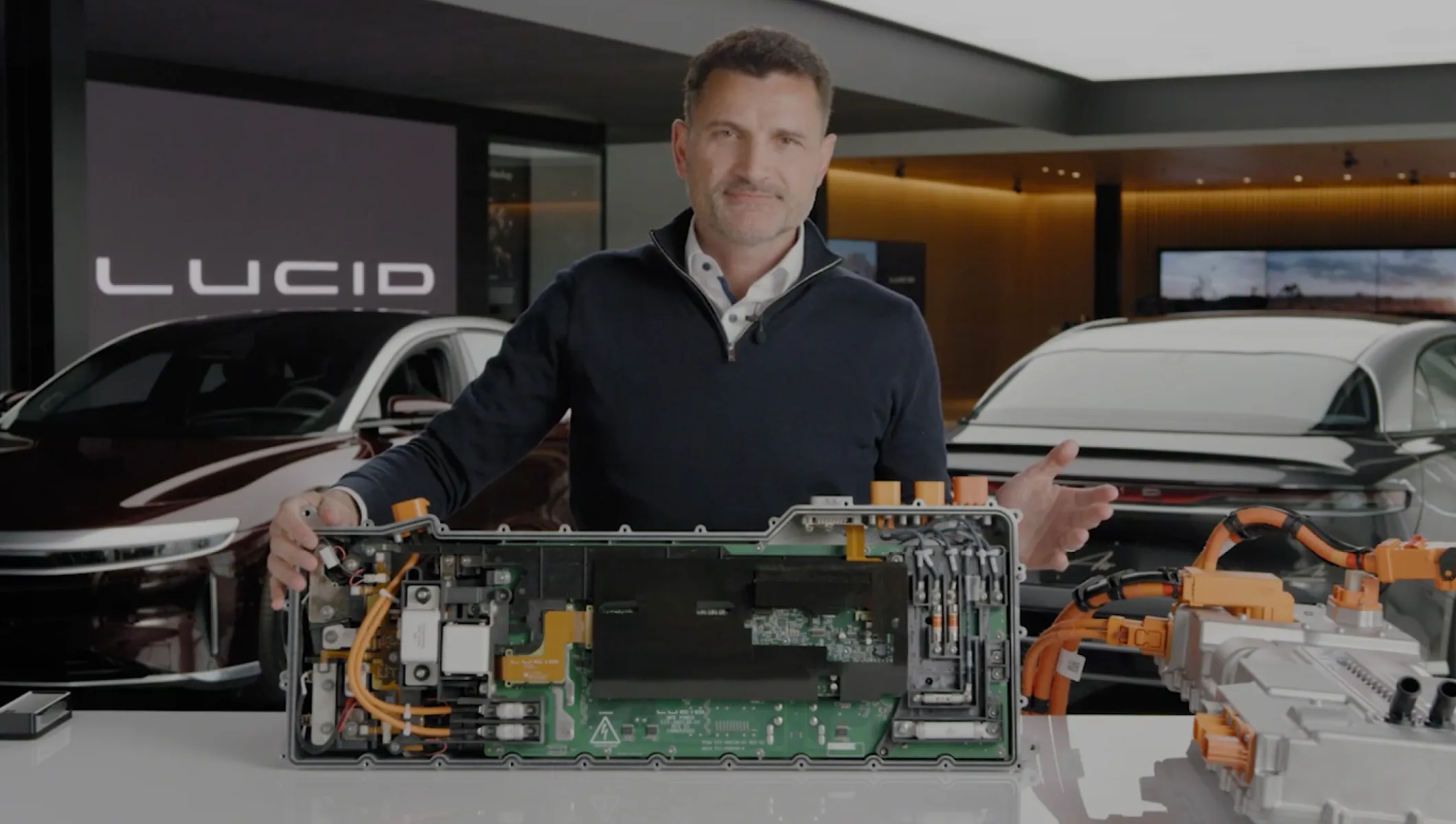 Tech Talks video series offers an unprecedented look at how Lucid Air achieves industry-leading efficiency, unmatched power density, and the longest EPA-estimated range for any EV
New episode, released today, explores the groundbreaking EV charging technology in Lucid Air
NEWARK, CA — July 12, 2022 — Lucid Group, Inc. (NASDAQ: LCID), setting new standards with the longest range, fastest charging electric car on the market, today announced the release of the third and latest episode in its Tech Talks video series, which reveals the innovative technology contained in the Wunderbox — Lucid's ultra-fast, ultra-flexible EV charging system. The episode is hosted by Eric Bach, Lucid's Senior Vice President of Product and Chief Engineer.
Viewers will receive an introduction to the Wunderbox system and how it makes it possible for Lucid Air to add as much as 100 miles of driving range with as little as five minutes of charging, or up to 300 miles of range in approximately 22 minutes. They'll also learn about the bi-direction charging features coming soon to Lucid Air, which are enabled by the Wunderbox system, and how they are potential game-changers for renewable energy.
The "Wunderbox" episode released today is the third installment in the 10-episode Tech Talks series. Each episode explores a different area in which Lucid's in-house technological innovations have led to breakthrough results, from EV batteries to aerodynamics to the way Lucid maximized space inside the vehicle by miniaturizing major vehicle components. Episodes are hosted by many of Lucid's leading experts, including Peter Rawlinson, Eric Bach, and Derek Jenkins, as well as subject matter experts including Emad Dlala and Jean-Charles Monnet. Taken as a whole, these experts will educate viewers on how Lucid's first luxury EV swept away conventional notions of what a vehicle is capable of in terms of efficiency, performance, charging, lighting, and interior space.
New episodes will be published regularly to the Lucid Motors YouTube channel on an ongoing basis.
Available Now:
Battery Pack — Peter Rawlinson, CEO/CTO
Space Concept — Peter Rawlinson, CEO/CTO
Wunderbox — Eric Bach, SVP of Product/Chief Engineer
Coming Soon:
Drive Unit Part 1 - Motor — Peter Rawlinson, CEO/CTO, Emad Dlala, VP of Powertrain
Drive Unit Part 2 - Inverter — Eric Bach, SVP of Product/Chief Engineer
Drive Unit Part 3 - Transmission — Peter Rawlinson, CEO/CTO
Body Structures — Peter Rawlinson, CEO/CTO
Lighting Technology — Eric Bach, SVP of Product/Chief Engineer
Aerodynamics — Derek Jenkins, SVP of Design and Brand, Jean-Charles Monnet, Technical Fellow, Aerodynamics
Suspension — Peter Rawlinson, CEO/CTO
Episode release sequence is subject to change.
About Lucid Group
Lucid's mission is to inspire the adoption of sustainable energy by creating advanced technologies and the most captivating luxury electric vehicles centered around the human experience. The company's first car, Lucid Air, is a state-of-the-art luxury sedan with a California-inspired design that features luxurious full-size interior space in a mid-size exterior footprint. Underpinned by race-proven battery technology and proprietary powertrains developed entirely in-house, Lucid Air was named the 2022 MotorTrend Car of the Year®. Lucid Air Grand Touring features an official EPA-estimated 516 miles of range or 1,050 horsepower. Customer deliveries of Lucid Air, which is produced at Lucid's new factory in Casa Grande, Arizona, are underway.
Media Contact
media@lucidmotors.com
Trademarks
This communication contains trademarks, service marks, trade names, and copyrights of Lucid Group, Inc., and its subsidiaries, and other companies, which are the property of their respective owners.
Forward-Looking Statements
This communication includes "forward-looking statements" within the meaning of the "safe harbor" provisions of the United States Private Securities Litigation Reform Act of 1995. Forward-looking statements may be identified by the use of words such as "estimate," "plan," "project," "forecast," "intend," "will," "expect," "anticipate," "believe," "seek," "target," "continue," "could," "may," "might," "possible," "potential," "predict" or other similar expressions that predict or indicate future events or trends or that are not statements of historical matters. These forward-looking statements include, but are not limited to, statements regarding plans and expectations regarding the Tech Talks video series, the Wunderbox technology, including expected range and charging time, plans regarding bi-directional charging features and their expected effects, and the promise of Lucid's technology. These statements are based on various assumptions, whether or not identified in this communication, and on the current expectations of Lucid's management. These forward-looking statements are not intended to serve as, and must not be relied on by any investor as, a guarantee, an assurance, or a definitive statement of fact or probability. Actual events and circumstances are difficult or impossible to predict and may differ from these forward-looking statements. Many actual events and circumstances are beyond the control of Lucid. These forward-looking statements are subject to a number of risks and uncertainties, including those factors discussed under the heading "Risk Factors" in Part II, Item 1A of Lucid's Quarterly Report on Form 10-Q for the quarter ended March 31, 2022, as well as other documents Lucid has filed or will file with the Securities and Exchange Commission. If any of these risks materialize or Lucid's assumptions prove incorrect, actual results could differ materially from the results implied by these forward-looking statements. There may be additional risks that Lucid presently does not know or that Lucid currently believes are immaterial that could also cause actual results to differ from those contained in the forward-looking statements. In addition, forward-looking statements reflect Lucid's expectations, plans or forecasts of future events and views as of the date of this communication. Lucid anticipates that subsequent events and developments will cause Lucid's assessments to change. However, while Lucid may elect to update these forward-looking statements at some point in the future, Lucid specifically disclaims any obligation to do so. These forward-looking statements should not be relied upon as representing Lucid's assessments as of any date subsequent to the date of this communication. Accordingly, undue reliance should not be placed upon the forward-looking statements.