WLTP EST. RANGE¹ UP TO
725 km
Lucid Air Pure.
Range, performance, efficiency, and space from 418,600 SAR1
Exterior
Experience our purest expression of luxury in the lightest Lucid yet.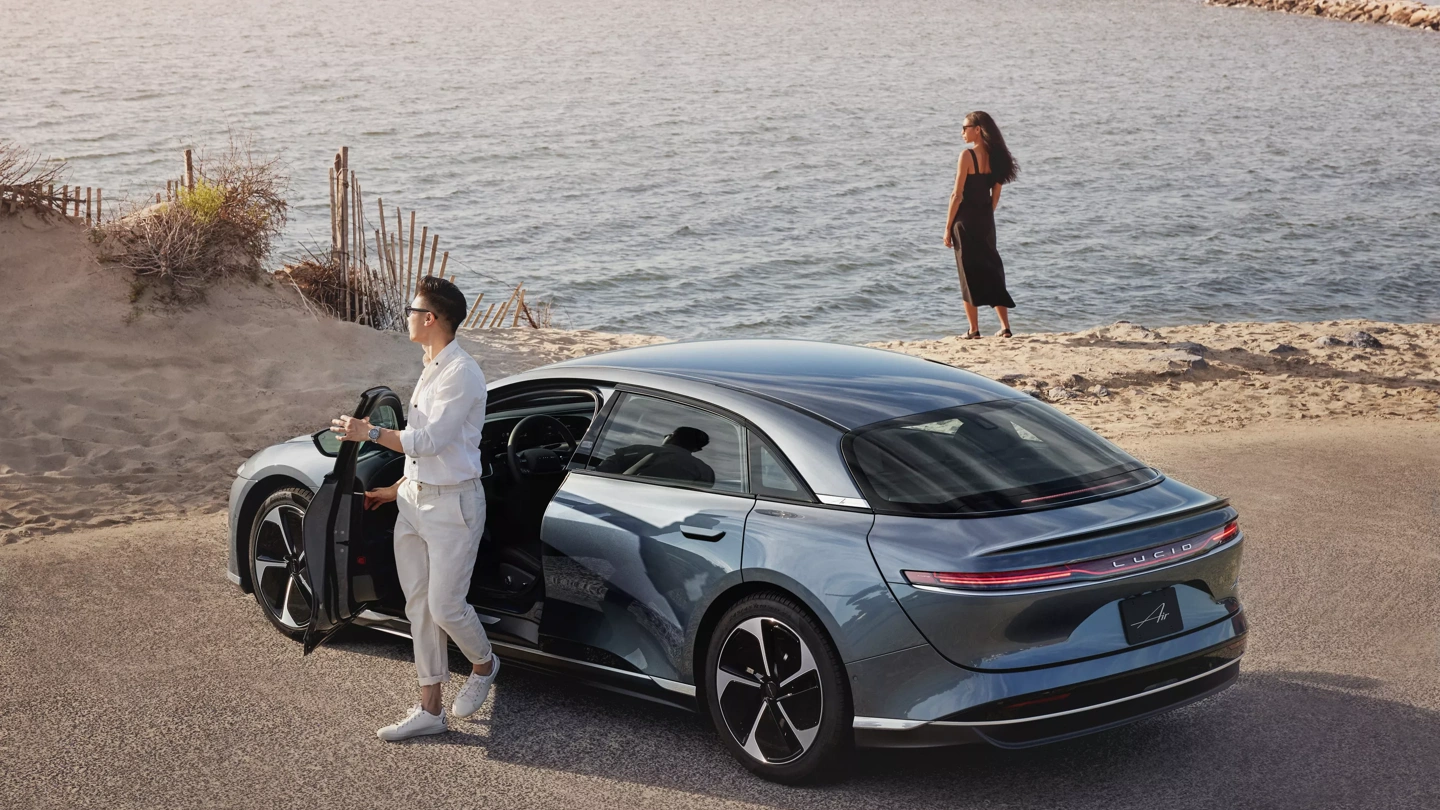 The same Lucid experience, in a lighter, ultra-efficient trim that lets you feel the difference. With stylish lines, and a sleek metal roof, you'll make a bold statement — without ever saying a word.
DESIGN YOURS
Definitive exterior details.
EXTERIOR
6 colorways
Rich metallic colors inspired by the beauty of the California landscape.
WHEELS
19"- 20"
Comes standard with 19" Aero Range wheels. 20" Aero Lite wheels optional.
ROOF
Aluminium roof
A flawless finish, accented by platinum polish canopy roof trim.
Interior
Relax into refinement.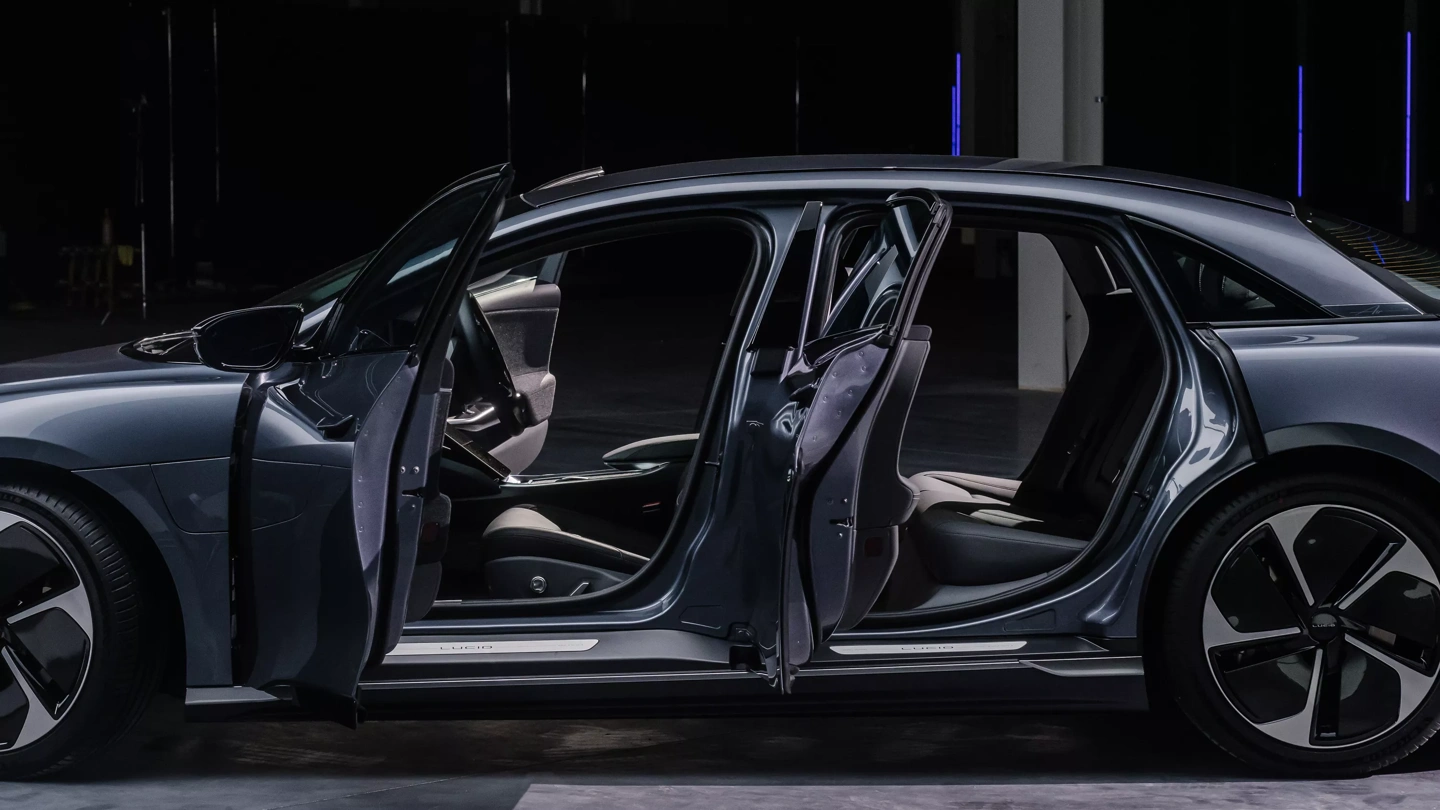 The Lucid Air Pure is the distillation of amazing range, performance, efficiency, and space — into our most essential and lightest vehicle yet.
Interior details and amenities.
MATERIALS
Soft and sustainable
Super soft Mojave PurLuxe leather alternative seats.
SPACE
Roomy interior
More leg and headroom, perfect for longer rides.
SEATING
Heated seats
Comfortably even warmth across the cushion.
SOUND
Surreal Sound™ Pro
21-speaker immersive audio with Dolby Atmos technology.
DreamDrive™
We've got your back. And front. And sides.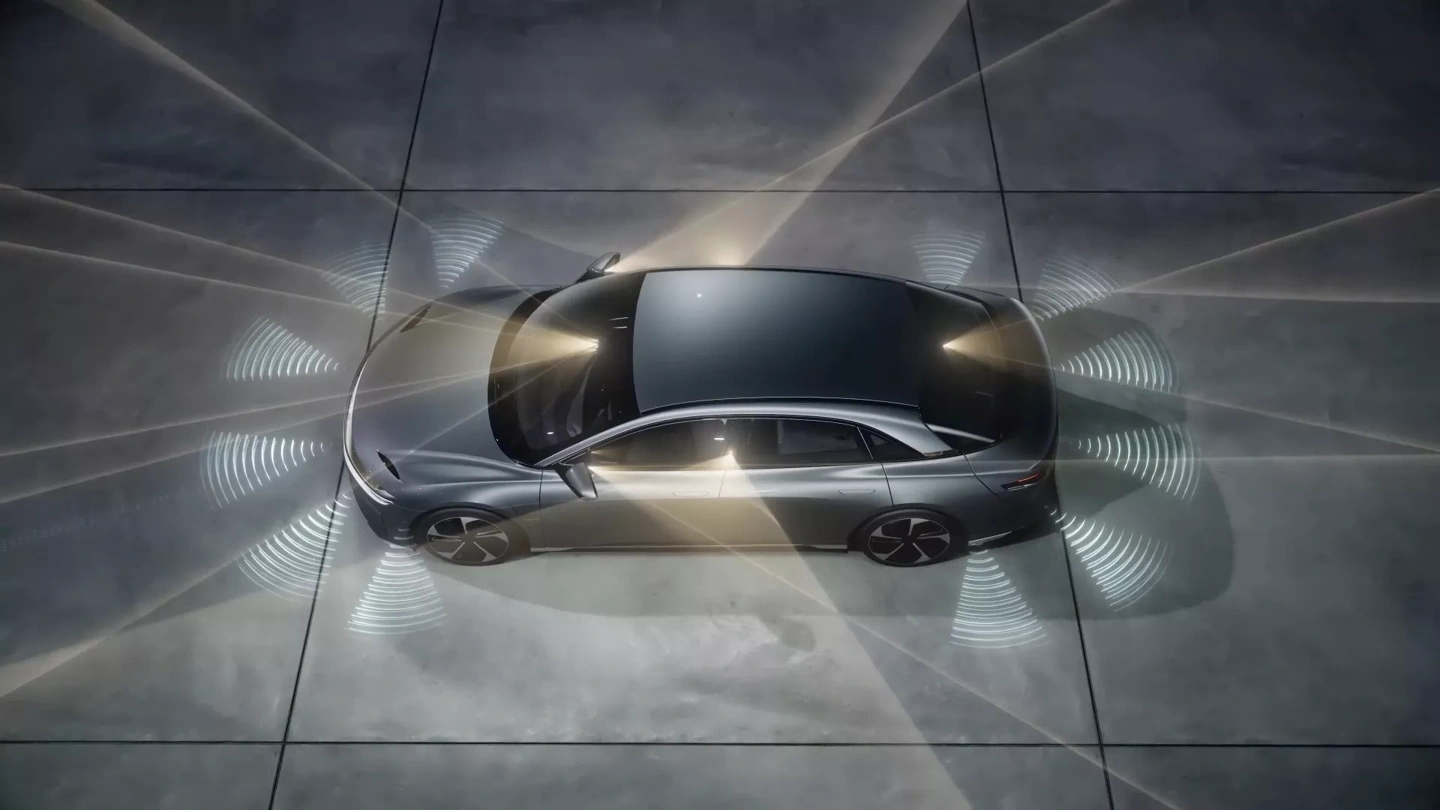 Included in every Air Pure is Lucid's Adaptive Cruise Control, Automatic Park In & Out, Front & Rear Cross Traffic Protection, Blind Spot Warning, Automatic Emergency Braking, and more. Optional DreamDrive™ Pro upgrade available.
SPECS
Pure performance, meets pure power.
The next level of pure - suited for touring, ready for racing - engineered for efficiency.
Air Pure Specs
WLTP Est. Range¹ Up To
725 km
Charge to 400 km 2
20 mins
Acceleration
4.0 secs 0 - 100 km/h
Drag Coefficient 4
0.197 cd
Powertrain
Dual-Motor AWD
Compare
Refinement runs in the family.
Pure AWD

Price3

Buy from 418,600 SAR

Max Power

480 hp

0 - 100 km/h

4.0 secs

Estimated Range1

725 km

Charge to 400 km2

20 mins

Drive Type

AWD
Touring

Price3

Buy from 478,400 SAR

Max Power

620 hp

0 - 100 km/h

3.6 secs

Estimated Range1

725 km

Charge to 400 km2

20 mins

Drive Type

AWD
Grand Touring

Price3

Buy from 618,700 SAR

Max Power

819 hp

0 - 100 km/h

3.2 secs

Estimated Range1

839 km

Charge to 400 km2

16 mins

Drive Type

AWD
Dream Edition

Price3

Buy from 878,600 SAR

Max Power

(P) 1,111 hp (R) 933 hp

0 - 100 km/h

(P) 2.7 secs (R) 2.9 secs

Estimated Range1

(P) 861 km (R) 883 km

Charge to 400 km2

15 mins

Drive Type

AWD