Lucid Air Dream Edition: 9.9 Second Quarter Mile with 1080 HP
Lucid's powerful and compact electric drivetrain delivers new performance benchmarks
From the very beginning, Lucid has focused on developing a new standard in electric vehicle technology. The Lucid Air represents the culmination of these efforts, featuring a proprietary electric drivetrain that sets new benchmarks for both performance and efficiency.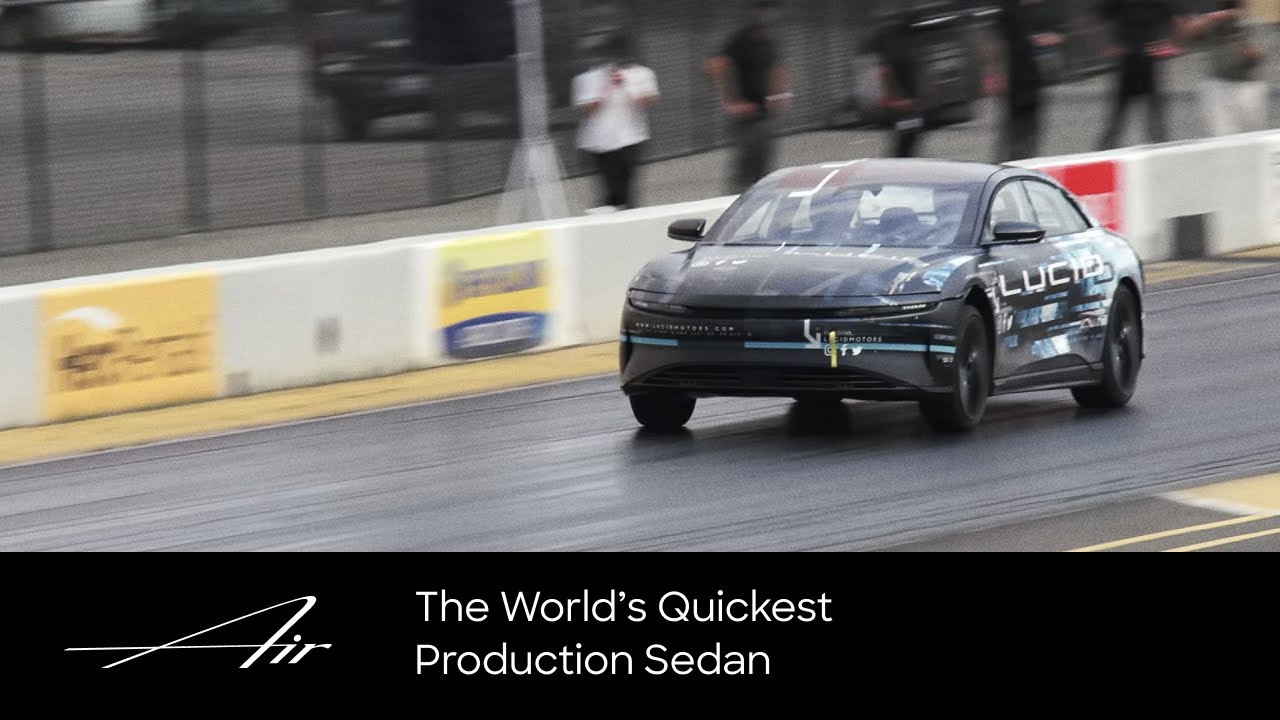 With up to 1,080 horsepower available in a dual-motor, all-wheel-drive package, the Lucid Air Dream Edition has achieved quarter-mile times as low as 9.9 seconds on a consistent basis, making it the world's quickest production sedan. This performance is wrapped in an uncompromisingly luxurious package, offering room for five passengers with class-leading interior and storage space. All Lucid Air models will have long range capabilities and certain versions will even have the ability to travel up to an estimated EPA range of up to 517 miles on a single charge.
To develop such an uncompromised vehicle, our world-class engineers optimized every aspect of the Air's performance and efficiency. The result is an ultra-compact electric drivetrain that lays the foundation for Lucid's Space Concept while delivering outstanding performance.
Here is a look at the revolutionary technology, developed in-house, that makes the Lucid Air possible.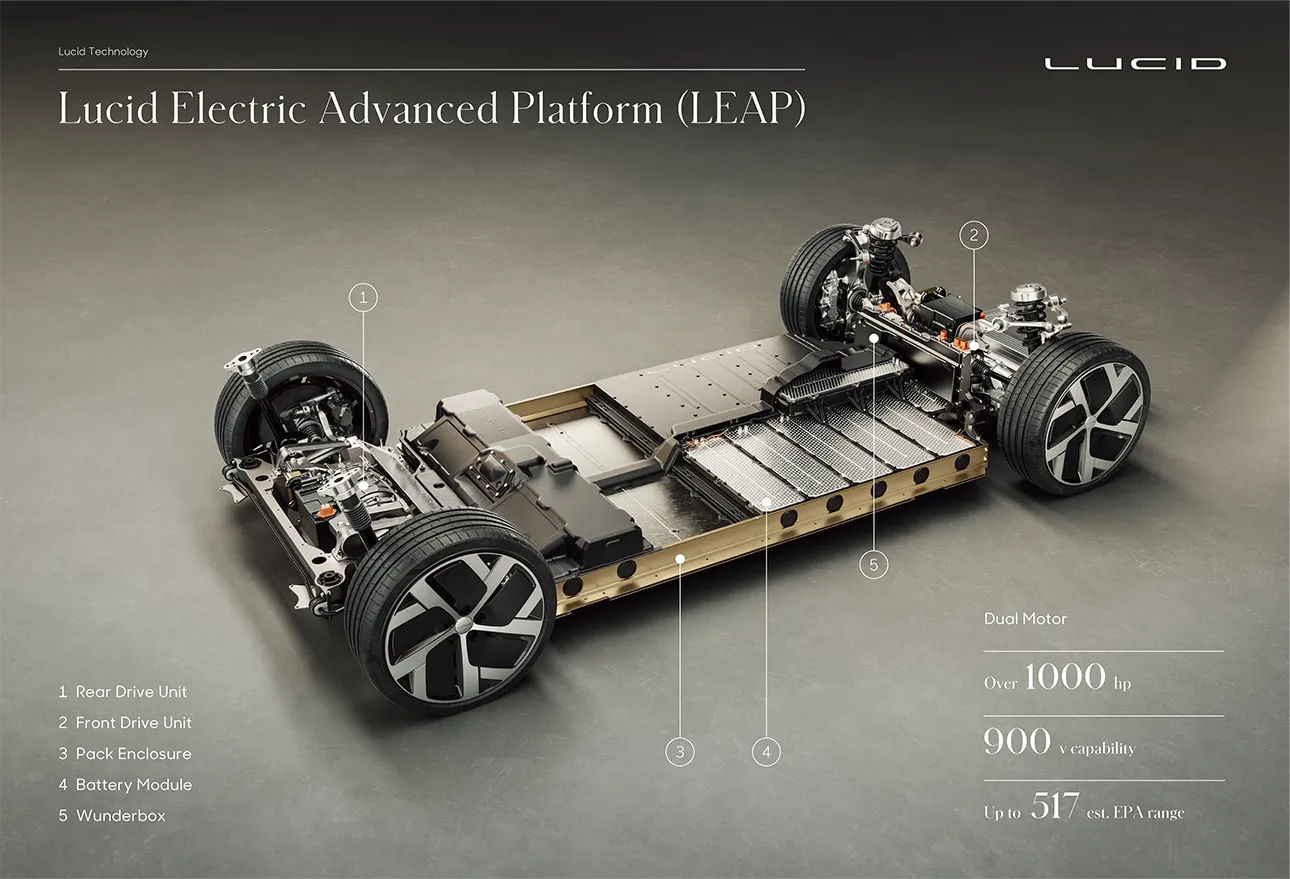 Drive Unit and Inverter
Lucid's line of powerful, compact, and ultra-efficient motors are combined with an integrated transmission and differential, as well as our high voltage, silicon-carbide MOSFET inverter, to create a state-of-the-art electric drive unit. Each unit packs over 650hp and can spin to 20,000RPM, yet weighs only 163lb (74kg) and is small enough to fit inside a standard airplane carry-on bag.
These achievements are the result of multiple innovations. Elegant motor-winding technology maximizes power output and reduces electrical losses, while an innovative cooling system removes heat from the stator winding, minimizing losses and boosting efficiency. The transmission and differential, meanwhile, have been fully integrated for the first time in an electric motor: together, they comprise a single rotational system that is both lightweight and efficient.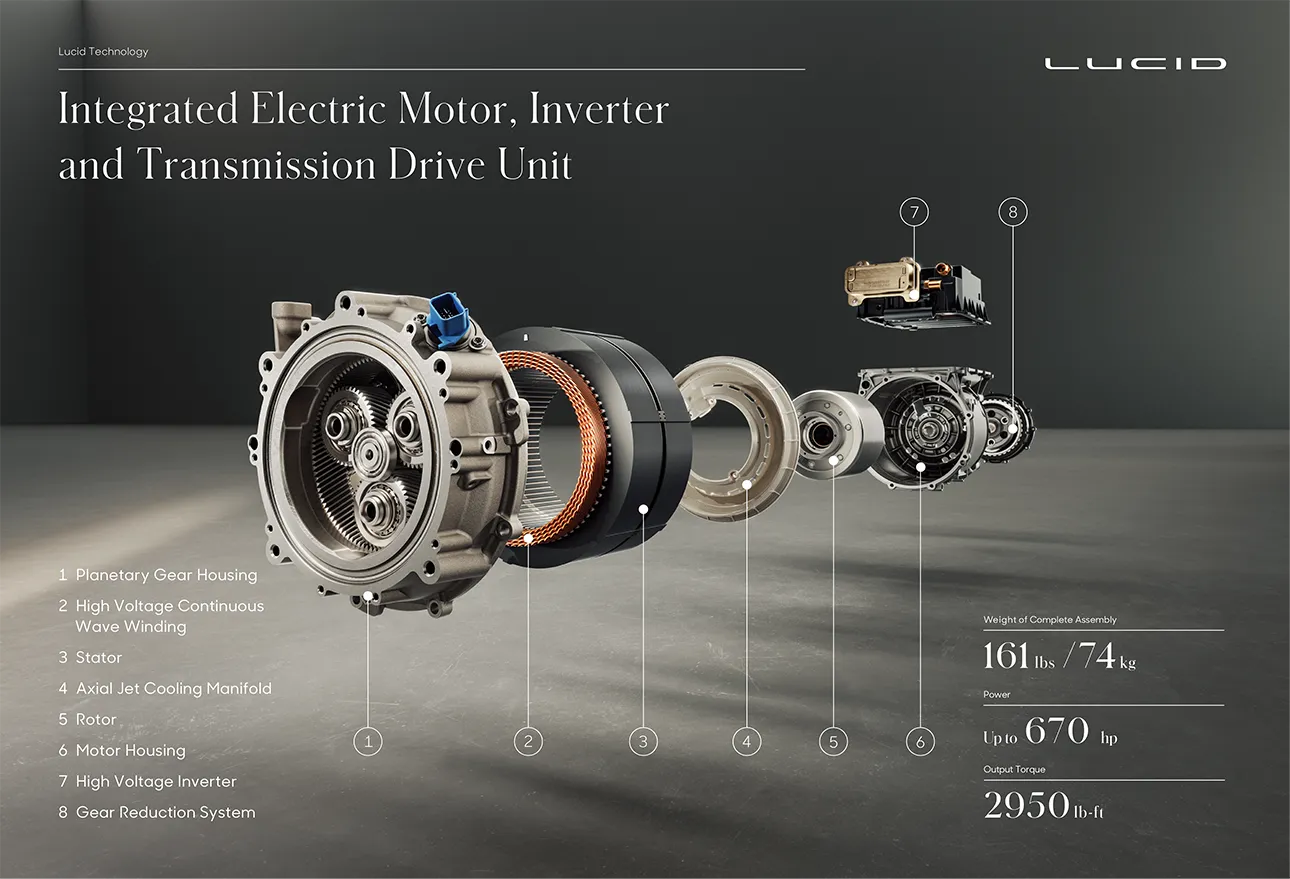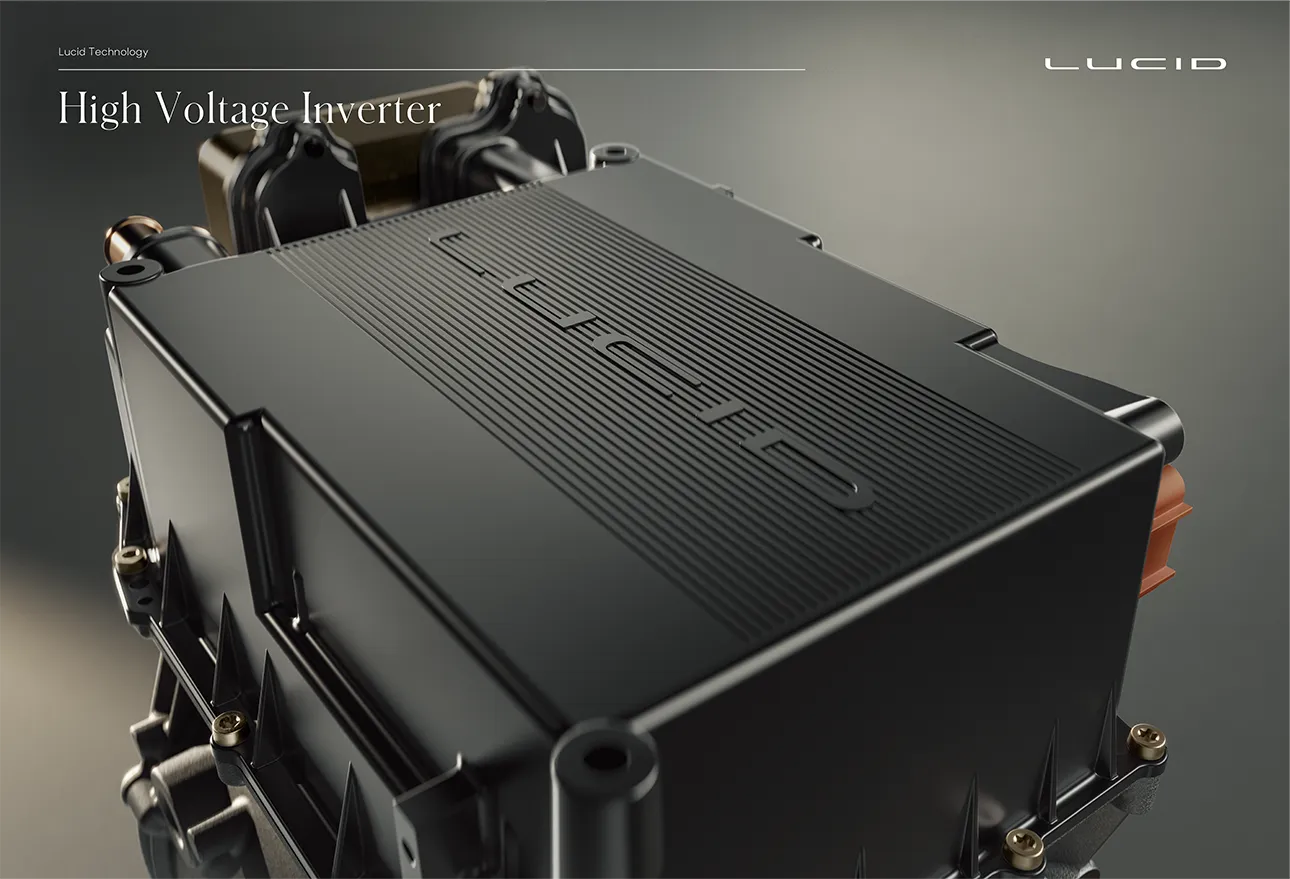 The Wunderbox
A 900V+ architecture, combined with Lucid's Wunderbox onboard charging unit, serve as the heart of the Air's electrical platform. They allow the Lucid Air to charge at rates of up to 300 miles in 20 minutes and up to 20 miles in one minute when connected to a DC Fast Charger, such as those offered by our charging partner, Electrify America, on its national network.
Boost-voltage charging – which ensures compatibility with, and the maximizing of, charging systems of differing voltages – brings improved flexibility and performance to EV charging.
The Wunderbox also enables a wide array of future-ready, bi-directional power delivery features from the vehicle to the grid (V2G) for situations such as managing home power outages. It can also enable vehicle-to-vehicle charging (V2V).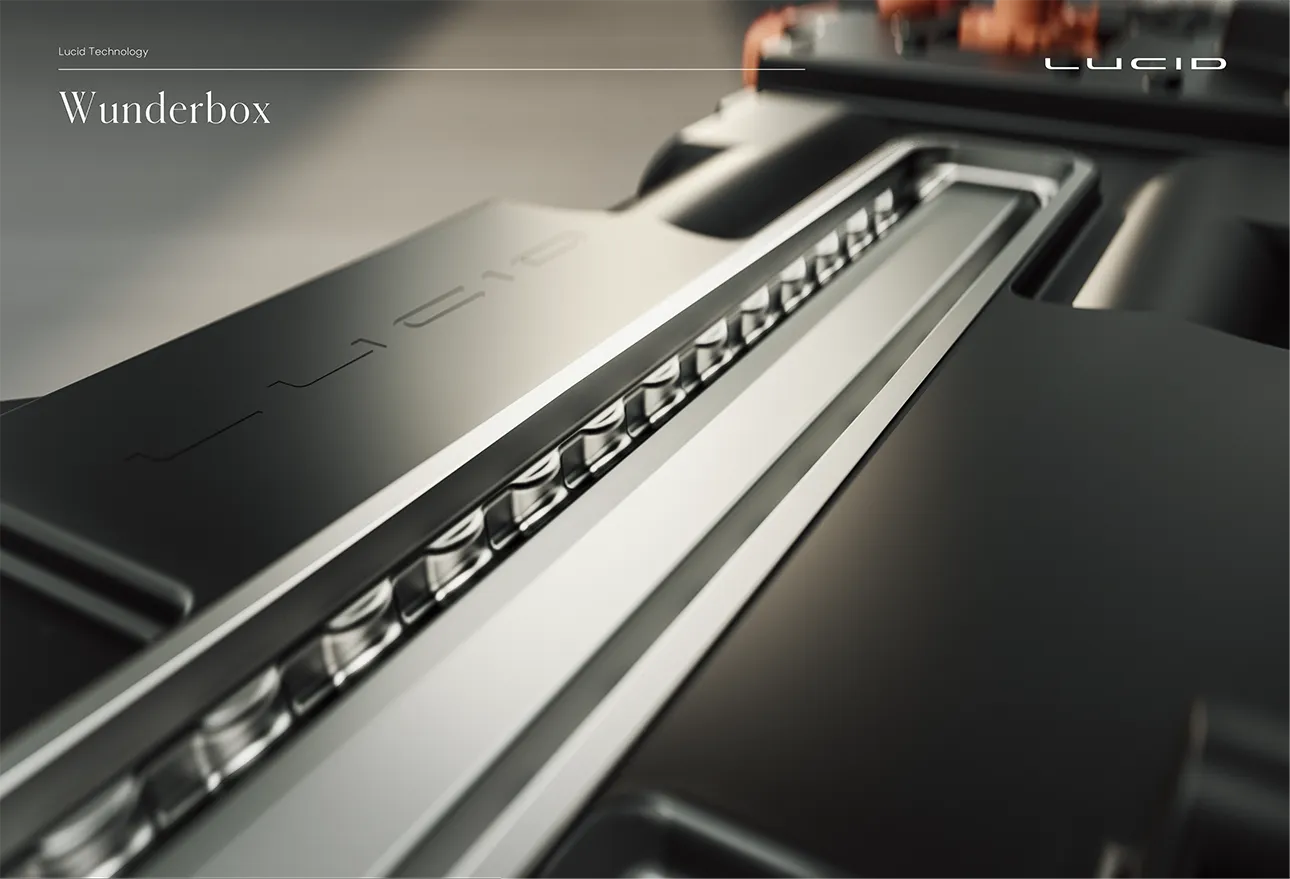 The Battery
Lucid drew upon ten years of experience and more than 20 million miles of real-world testing to create its compact, 113 kWh extended-range battery packs. Atieva, Lucid's technology division, designed, developed, manufactures and has supplied the battery packs for the entire field of entries in the Formula E racing series since 2018 and will continue to do so through 2022. The result is a battery system for Lucid Air that delivers unparalleled safety and race-proven performance.